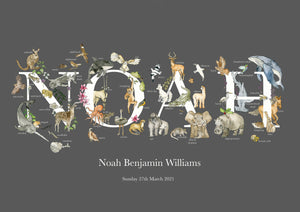 The personalised animal name print is the perfect way to introduce a child to all the wonderful animals and wildlife that begin with all the letters within their name.
Each print is custom designed by Rachel to include a variety of animals and wildlife that begin with each of the letters within the child's name.

Rachel took inspiration from her love of children's vintage books as the starting point for her new collection. The classic timeless quality to the collection make them the perfect heirloom gift for a special someone to treasure for years to come. 
In addition to the illustrated name the print can also be personalised with the child's full name and date of birth underneath in a beautiful traditional font. Simply add the first name and full details you wish in the comments section at the checkout cart. For customers wishing to purchase a custom print with names consisting of 10+ letters please email prior to discuss the design options first.
You can choose to include the descriptive text detailing each animal included as a learning reference or simply leave it as a beautiful illustration without.
The name print collection is available as an A3 landscape format and are printed on archive quality soft grain paper using the highest quality inks. Each print is packed in a clear cellophane sleeve and delivered in a board flat packed envelope.
Dimensions - 42cm x 29.7cm landscape.
Please kindly note that the size of the font and illustrations will vary depending on the number of letters in the name you have selected. For example names with 3-6 letters will have a large font and illustrations compared with names of letters 7 or more.

For all custom designed artwork please kindly allow 5-7 working days for production and dispatch.
Thank you for visiting Ella and The Roo, please contact Rachel on hello@ellaandtheroo.com if you have an queries with ordering.